Site Stacker Training Overview
You have two different administrative views to manage Site Stacker
Training Exercises
Use These Step-by-Step Exercises to Learn How Everything Works Together
Start Here!
A few of our most typical Questions & Answers
Contributions | Online and Offline Giving

Q: Can I fully refund a Credit Card or ACH donation right from Site Stacker?
A: Yes! Right click any "Online" type donation in the Contributions Transaction Grid and you will see the option to Refund on the power menu. Remember, this is a banking transaction that will actually send the money back to their account from your bank.

Q: Can I enter a Credit Card or ACH donation on behalf of a donor?
A: Yes! You can do this from either the Contributions Transaction tab, or from the donor's CRM record in Admin. There are tutorials on the training site for both.

CRM

Q: Can I write a contact an email while I am viewing their CRM record?
A: Yes you can. When you are viewing their full record detail you will see a button to "Write a Message". This will result in them receiving an email at their "default email address" from the email address you are logged in with.

Q: Can we add custom data fields to be used in CRM records?
A: Yes you can. With appropriate Admin privileges you can use "Configurations" inside the CRM component to do this. There is a tab inside configurations for "Entities". An Entity is a new tab in the CRM record. An Entity Group is a new group of fields inside a tab. You can add unlimited data fields into Entity Groups.

Q: Can I add a new gift from a Donor right from their CRM record?
A: Absolutely. While viewing their full record, click on the "Contributions" tab which has a shopping cart icon on it. From here, in the "Transactions" tab, click the "Menu/Search" bar on the left, and then click the "Add a Contribution" button.

Site Planner | Giving Campaigns

Q: If I unpublish a giving Campaign will I still be able to add offline (cash and check) donations that have that campaign as a designation?
A: Yes. Unpublishing the campaign will only cause it to not show up on the website. You will still be able to find it and make a designation to it when entering offline gifts.

System Messages | Automated Email

Q: Can I edit the email that donors get after they make a gift?
A: Yes you can. This is done from the System Messages component in Site Planner. There are several tutorials on this training site to walk you through how to do it.

Advocacy | Peer-to-Peer Giving

Q: Can we edit campaigns users make before their content is seen by the public on our live website?
A: Absolutely. Peer-to-Peer giving in Site Stacker can be configured to allow moderation of user-submitted content. When it is configured correctly any of your Moderators will get an email notification when a user has created or edited a campaign. The content they create will not show up on their campaign page until your moderators login to admin, view the content from the "Advocacy" component and then put it in an approved/fully published status.

Newsletters | List and Subscription Management

Q: Can I export subscribers to our newsletter in a CSV file so they can be imported into programs like Mailchimp and Constant Contact?
A: Yes you can. This is done from the Newsletters component. Click on Subscribed People, and pick an after date in the top filter for the day after the last time you exported (this will eliminate duplicates). Then click "Export to CSV" at the bottom of the grid.

Users | Login and Passwords

Q: Can I change a user's password for them?
A: Yes you can. This is done from the Users component. Search for the user you have in mind, double click their record, type in the new password and Save. It is good practice to hit the "i" button next to their name in the grid after you've done this, and use the "Send Message" feature to tell them what their new password is and to remind them to login and change it to a more secure password immediately.


Some Questions and Answers You Might Appreciate
Child Sponsorship Management | DashboardsQ:
What controls whether a child shows up on the website?
A:
The child's CRM Record type. If a child's records has the Record Types of "Sponsored" or "Unavailable" or "In Cart" added, they will not show up on the website. If they have the Record Type of "Available", they will. There are also ways that advanced/power users can control this publishing manually from Site Planner.
Q:
What happens if I do not follow all the steps of the Tutorial when I add a new child into the system.
A:
There are several automated activities that are triggered from the various steps of adding a new child record. If you do not follow all the steps, the automated activities will not trigger and you will get undesirable outcomes such as a child being added but not showing up on the website or in certain management grids. Don't worry though, you can always pick up where you left off and complete the steps at any time.
Q:
What happens if a child sponsor cancels their recurring online gift?
A:
The default automated outcomes are that the relationship between the donor is changed from "Sponsor of" to "Previous Sponsor of", record types are changed accordingly on both the child and the sponsor CRM records, and the child is republished to the website so a new donor can sponsor them.
Q:
Is it possible to change core configurations and automations so child sponsorship management can fit the way our organization works?
A:
Absolutely. The best thing to do in this case is consult with your Implementation Team Lead or WMTEK Client Support so we can make sure the changes you need are implemented correctly.
Donor Management | DashboardsQ:
Can I find donors based on a range of giving related filters, like how much they gave last year or whether they gave to a certain project?
A:
Definitely. From Donor Management/All Contacts on your Dashboard click the "Show Filters" button. This reveals a wide variety of filters you can use to narrow down the list of donors presented below.
Q:
When I add filters to my donor list can I save my selections?
A:
Yes. On the far right of the Filters view you will see a drop down utility that allows you name and save your current selection.
Q:
Can we setup custom print templates that allow us to print Donor Records to pre-formatted labels, envelopes, letters, etc?
A:
Yes you can. This will require Super Admin privileges and there is a good chance a system administrator at your ministry has been trained on this. If you are a super admin and don't know how to do this, request a training session with our Client Support team.
Q: Can I view a donor's full giving history?
A: You sure can. Just click on the donor's name in the Donor Management grid on your dashboard to launch their full record. From here, click the giving tab.

Fundraising | Dashboards

Q: Can I see easily see how much has been given to specific project during a specific time period?
A: Oh yes you can. Click on "Fundraising" from your Dashboard. At the top of the page that loads there is a drop down that allows you to select from your active projects. Click the one you are interested in and the data and metrics on the page will reload to reflect the values for just that project. Don't forget to click around on the Support Over Time graph, various report links, etc to take full advantage of the information.

Q: If I click on a "Report" link and the report doesn't download, what do I do next?
A: The report that loads is actually a PDF document download in a different tab. If you have an Ad Blocker or a Pop-up Blocker active on your browser, this is most likely keeping the download from happening. Open up your blocker settings and tell it to allow pop-ups or downloads from this site. Then try clicking on the report again.
Overview of Primary Admin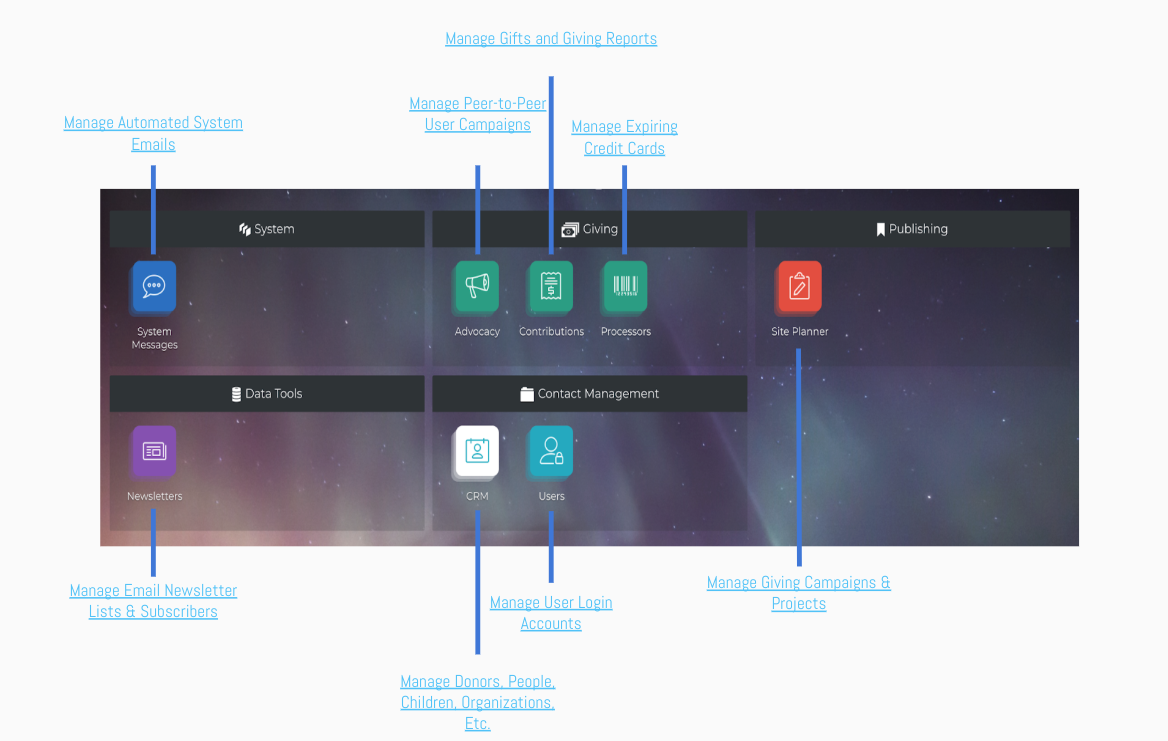 Overview of Dashboards